Scam brokers are tainting the binary options trading industry, which has been growing popular swiftly because of easy accessibility. It is attracting not just traders but also brokers with bad intents of making quick bucks and get out or disappear. However, there are only a handful of binary options broker in the world, who can be trusted.
The remaining does not include only scammers but even the ones who don't offer good terms or sufficient features or are operated incompetently.
Deciding to make Specific Trade is your Own Decision
Binary options trading is risky. It depends on your ability to choose an asset, its expiry time and price. Actually, the binary options broker you got registered with is not liable for changes occurring in the market. They do offer signals, which are meant to assist you in making a decision but ultimately, it is your responsibility to follow their predictions or not.
Even if they offer useless alert systems for free for a specific account tier, you will not be able to take action of their fraud system because the small prints always mention that system doesn't guarantee results.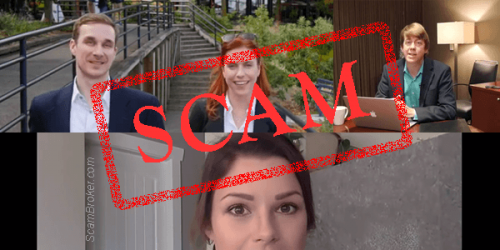 Withdrawing Fund Issues
Many binary options broker set up with an intention to scam you, during money withdrawals. When you try to withdraw money, you will find yourself paddle through extremely complicated terms impossible to be fulfilled or send documents even though you submitted everything in the start or the broker dodges your request and disappears ultimately.
Contact Customer Service
After reading the withdrawal requirements to ensure that all the needs are met, it is time to file a complaint to get the funds back from the broker. However, before filing a complaint call the brokerage site's customer service.
Give them all the details, explain events regarding your withdrawal request and steps you took to resolve this issue. Discuss politely and tell them clearly that you wish to figure out this situation together with their help.
File an Official Complaint
In case, the customer service rep is not keen or unable to help or you don't get response in 2 to 3 business days then you can do the following.
If broker is regulated file complaint with their regulators. Many times, the brokers fear about getting into wrong side of their regulator and they agree o release your funds.
If broker is unregulated then you will need to confront directly. State your demands and if your money is not reimbursed talk against them. Some unregulated brokers with good reputation don't desire negative publicity in financial institution.
If the unregulated broker was a scammer then you will possibly lose your funds because scam brokers grab your funds and run. Just spread word against the broker who scammed you.
Today, victims take help from binary options lawyerand recoup their stolen money. In future avoid unpleasant experiences taking precautions to partner a reputable binary options broker after thorough background check, features offered, and minutely read the T&Cs. Navigate though the potential brokerage firm's website and reviews from past or existing traders to identify a pattern of negative experiences.