China is a lot more than just a homogenous sea of bicycles and faces. Stretching from the mountains on the West to architectural wonders on the East, China's splendor is rich, deep and diverse just like the 1.3 billion people that live within its borders. China landscapes range from the glacier-covered mountain to open grasslands, low plains and thousand-foot gorges. They are filled with mystery, adventure and sheer beauty.With a long history and a vast territory, China offers so many places to see and explore. Below are the beautiful places to visit in China:
The Great Wall of China
The Great Wall is among the iconic symbols of China. It is the longest wall across the world, an awe-inspiring achievement of the ancient defensive architectures. Its winding path over steep mountains and rugged country takes in some unique scenery. It is also one of the UNESCO World Heritage Sites located in China. The wall spans from the Western frontier to the Eastern coast, totaling around 3,100 miles (5,000 km). however, the best preserved and most integrated sections are closer to Beijing.
Reed Flute Cave
The breathtaking Reed Flute Cave which is located 5 kilometers from the Guilin city in Guangxi, China, has been named after the reeds that grow outside its entrance. This natural limestone cave is usually lit with the multicolored lights which creates an otherworldly landscape of sheer beauty. The Flute cave itself is more than 180 million years old and it has seen visitors for more than 1200 years. Visitors usually take an hour long walk in the cave on the U-shaped path to observe impressive limestone columns, stalactites and stalagmites that have formed. There's also a lovely park outside the Flute cave, with gardens, ponds, pagodas and peaceful pathways.
Suzhou
On the shores of Lake Taihu and the bank of Yangtze River in China you'll find Suzhou city; a city known for its numerous gardens, pagodas and stone bridges. Once referred to as "The Eastern Venice" Suzhou is both historically and currently a centre for silk trade. Suzhou City is located West of Shanghai in Jiangsu province. Visitors to this city can enjoy the view of the several stone bridges while also taking a boat trip on canals. Some of gardens are so magnificent to an extent that they have been declared as UNESCO World Heritage Sites. With a population of close to 6 million, Suzhou City has each and every kind of accommodation that a traveler might want.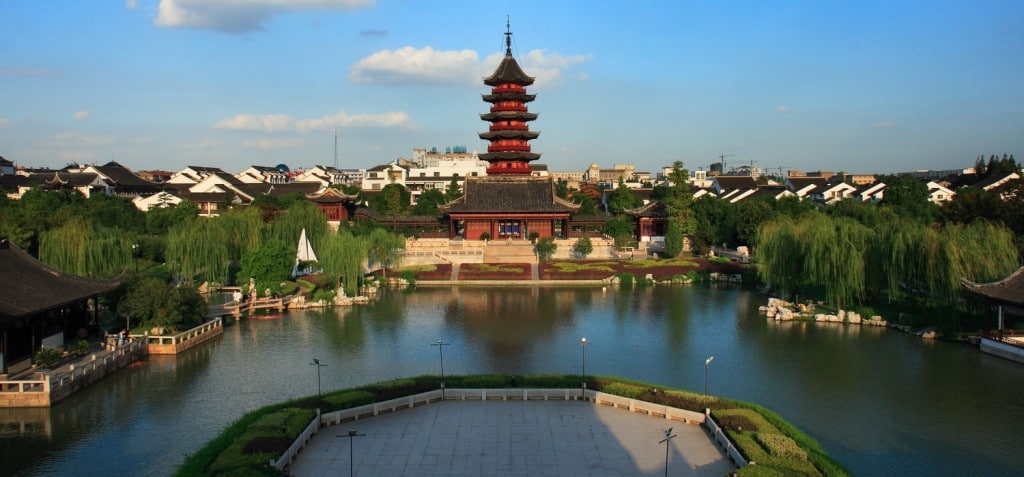 Heaven Lake
On the border of North Korea and China, in a caldera located at the top of Mt. Baekdu, you'll find Heaven Lake. This caldera was created after the volcanic mountain erupted back in 969 CE. Visitors to this lake can enjoy hiking, horse rides and stunning walks along the mountain paths. The canvas yurts are the most common accommodation for the tourists. However, there are also several upmarket hotels. The area is seasonally inhabited by semi-nomadic Kazakh people. These people stay in traditional Kazakh yurts and they still use their guided horseback tours so as help them earn income. The area can get quite cold thus warm clothes are recommended.
Hong Kong
Hong Kong City is located on the Southeastern coast of China, on the Pacific ocean. With more than 7 million residents, it's one of the densely populated regions. Hong Kong is mainly known for its towering buildings, picturesque harbor and beautiful skyline, but there are many reasons to visit Hong Kong. Even though it's part of China, Hong Kong has its own political system. This city is also a bustling financial centre and it's official currency, Hong Kong Dollar, is the most traded currency in the world. Hong Kong is also the world's most vertical city. As such, its amazing architecture of skyscrapers is a great attraction. The city also has a highly developed transport system which makes travel while visiting this city to be a painless experience.