India is a country like no other, which promises you a trip to unknown places. India moves, India shakes. A first trip to the land of Gandhi confuses in the true sense. It loses its codes, its landmarks. Too much noise, too many people, too much heat, too much rain, too much experience. But what grace in the smiles, what elegance in the movements of a sari, in the winding of a turban, what a natural in the spirituality, what majesty in his architecture and what fervor in his prayers. Read here about the Top Places of India that you can choose for your next trip.
1. New Delhi
Difficult to describe the city of New Delhi as it is cosmopolitan. It is one of the most important destinations to Visit in North India. From the residential neighborhoods of the south to the tumultuous streets of Old Delhi in the north, from the many Hindu temples to the mosque of the Muslim district of Nizamuddin, it is a city of surprising richness. Capital of the country, it attracts many tourists but also many workers from neighboring states in search of an El Dorado. Unwelcoming at first sight, a pleasant New Delhi nevertheless offers to all those who leave enough time to discover it. Red Fort, India Gate,  Qutub Minar, Chandani Chowk Market for Shopping, Paranthe Wali Gali, Akshardham Temple, Jama Masjid, Jantar Mantar, Lotus Temple etc. are the top places to visit in Delhi.
2. Mumbai
Bombay, renamed Mumbai in 1995, is the economic capital of the country. Capital of the Indian film industry, first port and shopping center, it is also the most populated city of India with its 15 million inhabitants. Marked by more than one hundred years of British colonization, Bombay has preserved many remains, particularly in the south of the city. City of all contrasts, here slums and modern towers rub shoulders in total indifference. Gateway of India, Elephanta caves, Marine Drive, Chhatrapati Shivaji Terminus, Haji Ali Shrine, Markets of Mumbai, Dharavi Slum Area are the top places to visit in Mumbai.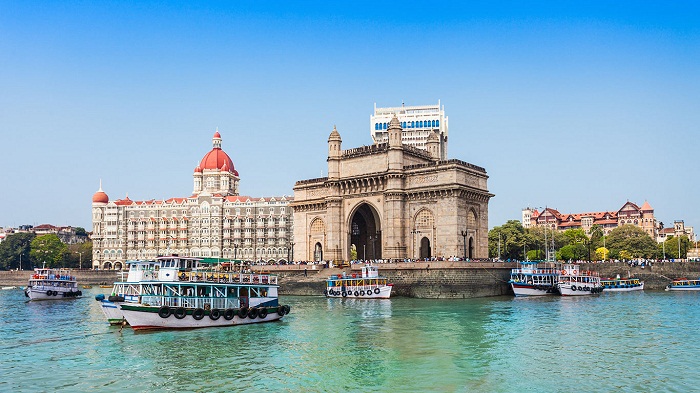 3. Rajasthan
Located in the northwest, on the border of Pakistan, Rajasthan is one of the most touristic regions of the country. Here, the ethnic, religious, linguistic and cultural differences are at their height and yet coexist. Land of a thousand temples, Rajasthan is made up of small kingdoms established by the Rajput lords, where time seems to have stopped. Landscapes to traditional clothing, you can explore so much in Rajasthan Tour and experience the richness and variety of its colors. Udaipur, Jodhpur, Jaipur, Jaisalmer, Chittorgarh, Sariska, Bharatpur, Alwar etc. are the top tourist destinations and cities in Rajasthan to explore.
4. Kerala
Located in southwestern India, Kerala is a region so green that the English have made it their favorite holiday resort. Along the coast of Malabar, you can let yourself be carried by the boats that slide on many backwaters (canals) leading to fishing villages, themselves surrounded by coconut groves and rice paddies. From visiting Fort Cochin to tea plantations to palm-lined beaches, Kerala will not disappoint lovers of nature. Kerala is filled with lots of hill stations to explore like Alleppey, Munnar, Cochin, Thekkady, Idukki, Vagamon, Wayanad that are the top destinations which fulfill every expect in vacation.
5. Uttar Pradesh
Located in the north-east of the country, Uttar Pradesh is the most populous state in India, home to a majority of Hindus. Closed to the north by Nepal, crossed by the sacred river of the Ganges, set with its precious Taj Mahal, Uttar Pradesh is also one of the most touristic states of the country.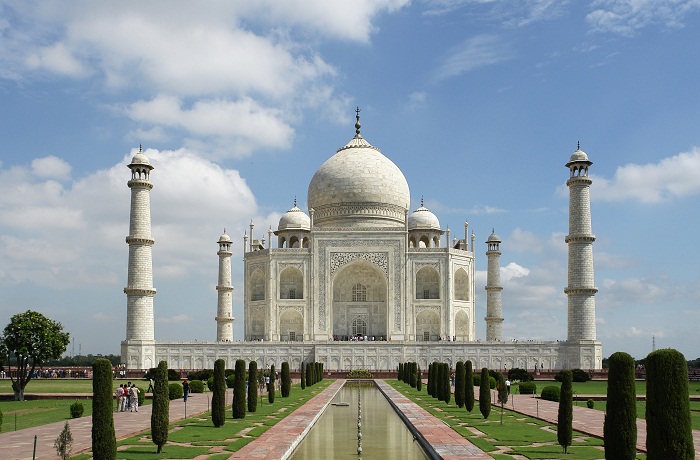 6. Goa
Marked by more than four centuries of Portuguese colonization, Goa has become the most popular seaside resort in the country. Many Western tourists but also Indian comes to enjoy its many beaches. In addition to idleness, the State of Goa also offers more cultural activities: many Portuguese buildings can be visited especially in the old city.