From bachelorette parties, pre-wedding shoots and finally, bridesmaid shoots, welcome to the most fun trend for weddings in India!
You seriously have to be out of the wedding scene if you are unaware of the "bridesmaid" trend until now. But for those who actually are, here goes the definition- "Bridesmaid is a girl or several of them who accompany a bride on her wedding day". Now someone who fits in a definition like this needs to look glam on the wedding day. Don't you think?
Taking cues from the west, the craze of taking the bride tribe along as a part of wedding celebrations is in vogue. Unlike west where a floor length gown is the staple dress for bridesmaids to don, Indian bridesmaids have an extended choice and freedom to get as creative as they can! Sarees, anarkalis, lehengas, Indian designer dresses, mixed- matched and what not, Indian bridesmaids are definitely on the luckier side!
Keep it quirky and make your tribe match the vibe- here are a few ideas!
Wearable Straight Cut Suits
The sleek and sophisticated look offered by a well-tailored straight fit is impeccable and any variation is simply unacceptable. It is probably the easiest to go outfit for the Indian bridesmaids and most ideal for those who feel bogged down under anarkalis and skirts.
Moreover, a well- fitted straight cut suit is a keeper for life, something which is not "once and done" types and the bridesmaid is going to wear it time and again on various occasions. Since front slits are in, opt for something like this one featuring a peach collared straight cut georgette kurta with leaf motifs and mirror work all over it.
Refreshing Anarkalis-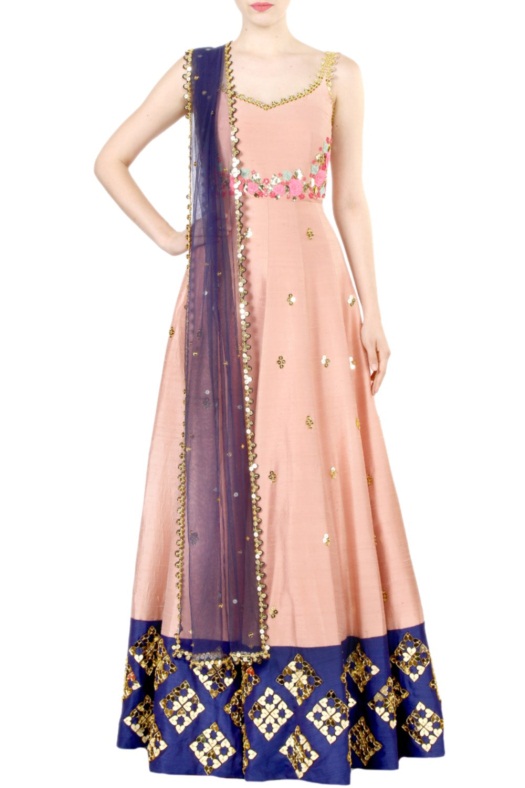 For a bridesmaid who wants the best of both worlds, an anarkali is a perfect bet. Go lighter on the embellishments part, however.
While they are comfortable on one hand, wearable on another, one thing is confirmed and that is they are here to stay! Choose minimalistic designs that are not too busy or extravagant. Take inspiration from this one featuring a blush pink deep back, floor length anarkali based in raw silk with rose thread embroidery, sequin and bead embellishments with contrast navy blue border. Despite being simple and calm, the outfit is graceful enough to make a splash.
Charming Sarees
Sarees are too mainstream- said no one ever. Also, they are a quintessential choice of outfit in many weddings such as the South Indian weddings. Wear same sarees in different styles or pick 2-3 hues which fit well so your gang is co-ordinated. Keep the color different from the bride, however.
If there's one saree which goes well as the Indian bridesmaid dresses- it is the plain sarees with barely-there embellishments. A clutch and some designer jewelry along can make the look, a sheer elegance.
Be in the spotlight and make every picture, worth a million dollars, taking inspiration from the above mentioned points!