SAP is an international firm that tends to dominate the whole enterprise business software segment market. This also includes resource planning enterprise, relationship and supplier management, etc. SAP was first started in the year 1972 by a Germany lab in Waldorf. About five professional engineers quit their jobs from IBM and set up perhaps the most important software for medium and large scale businesses in today's market. As of today, more than 84000 employees work with the large servers of SAP. There are more than 350000 clients for SAP ABAP across the globe.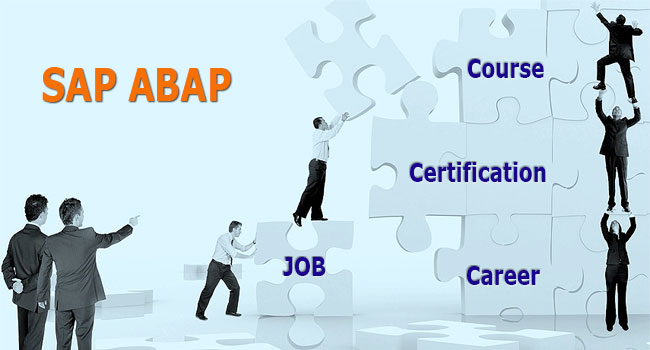 SAP certification is massively required for both client and your career with SAP. It is good to know that there are over 150 different types of SAP certifications. This depends on the type of product you are dealing with and the specific characteristics of the product. This mainly concerns product delivery, location, availability, type, etc. The certifications are given in three professional levels –
Professional Certifications – Those applying for professional certifications are expected to have a wide range of skills and deep understanding of the SAP system. They are expected to have practical and hands on experience of SAP ABAP.
Associate Certifications – For those who know the basics of SAP or for those who are new to the field can approach for associate certifications.
Specialist Certifications – For those who already have associative certifications, they can approach to get a specialist certification role. SAP ABAP candidates with specialist certifications are expected to be pioneers in their roles.
It is to be known that no training or other certifications are necessary for one to obtain a SAP ABAP certification in the associate and professional level credential. SAP also does not find the need of any recertification. But the technology keeps changing, and the SAP system will have regular updates. In order to keep up with the rising trends and keep your skills up to date, SAP monitors your credentials. The SAP ABAP tutorial will help you figure out what skills are needed to shine in this field.
A SAP system user job role or a junior consultant is for those people who are looking to enter into the SAP field. These roles will help you reach out to configuring systems; you will be working along with some of the best senior SAP consultants. This learning experience will help you chalk out your career and you will be able to reach new heights.
It is good to know that SAP ABAP certification is always good to have, but it is your skill that matters in the end. In order to have a successful career in this field, you must have a complete and ridiculously strong understanding of the SAP ABAP field. Know what your strengths lie in and progress towards that speciality during your certification and after you start job hunting.
SAP ABAP experts are perhaps some of the most highly regarded employees of the company. The entire system of the product based company runs on these SAP ABAP professionals who are configuring systems regularly. Those who are up to date with the technology tend to stand out among the others, a feat certainly that is bound to improve your career substantially.