The end of winter means one thing: spring cleaning. As the weather warms up, it's time to get rid of clutter, organize rooms, pull back curtains, and let fresh air in.
It is important to keep a senior home clean as toxins and allergens can put their health and safety at risk. For seniors who are able to do housekeeping chores themselves, here are a few tips on how to get the job done.
Make a spring cleaning checklist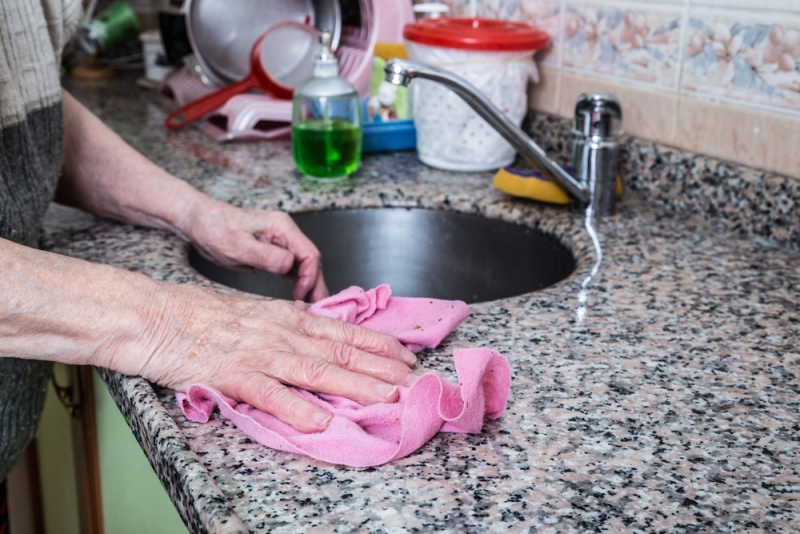 Spring cleaning is more than just vacuuming, mopping, and reorganizing. Sit down and create a checklist of the following tasks:
Remove clutter from rooms. You should be able to move around and access the things you need with ease. Get rid of bulky furniture or rugs that will cause you to trip.
Organize important documents. Gather all of your financial, health, and legal documents and organize them in one space that you can reach easily, in case of emergency.
Purge and donate. Follow the 80-20 rule: we only use 20% of our belongings 80% of the time. Donate the rest to charity to create extra space.
Check lights and detectors. Replace all broken light bulbs and dead batteries in smoke and gas detectors. Make sure that smoke and fire alarms are in good working condition and that hallways are well lit.
Check the bathroom for safety. Consider installing grab bars in the bathtub, shower, and near the toilet to avoid falls. Place non-slip mats in the tub. Replace rugs with non-slip mats.
Clean out the medicine cabinet. Check the expiry date on medicines, supplements, and topical ointments. Throw away all medications and prescriptions that are expired or you no longer take.
Clean out the pantry and fridge. Check the expiry date on packaged food. Throw away raw and cooked items that have been in your fridge beyond the duration they are expected to last. Discard frozen food with signs of freezer burn.
Clear the counter. Remove appliances that are not frequently used. Move items that are frequently used to accessible, easy-to-reach areas.
Ask Your Loved Ones for Assistance
Do not attempt to tackle all the chores by yourself. Taking on these tasks can be much more efficient if done with family members. Asking for help can also turn your spring cleaning sessions into the perfect opportunity to bond with your loved ones. Dig up old family photos and rummage through your kids' old toy chests – you might end up finding hidden treasures that you could pass on to your grandchildren.
Find the Right Tools
Seniors need help lifting, bending, and reaching so they don't strain their backs. At the hardware store, look for pole extensions that you can attach to dusters for cleaning high fan blades and high windows.
Evaluate Current Living Situation
If a senior has dementia, the family should consider hiring professional help to take care of daily tasks and light housekeeping. Another option is to relocate to a senior living community where the environment is safer for your aging loved one.
Written by The Village Of Bedford Walk, a senior living community in Columbia, MO.