The last time I visited a bank in person was two years ago. I have forgotten how my bankers look like.
But, I remember my bank's website very clearly. The login page, my account page, the section where I add new beneficiaries and pay my bills; I can recollect every single page with crystal clear clarity.
I am a habitual online banker. I don't think twice about using the Internet to wire transfer funds to my landlord or my parents. Even my utility bills are paid on auto-payment, thanks to online banking.
I believed online banking to the biggest wonder of the Internet era and rejoiced in its benefits until a friend shared some scary facts. It made me rethink of how potentially dangerous online banking is. Losing all my hard-earned money will only take the snap of a hacker's finger.
Not just me, even you and everyone else using the Internet for carrying out money transactions money is in danger.
Hackers with a coder's intellect and criminal mind have even found ways to surpass latest online banking identity security systems. From providing a fake upgraded security system to social engineering, they are masters of several hacking methods that users easily succumb to.
Data from online banking security breaches recorded for 2015, 2016 and ending 2017 also indicate an alarming increase in hacking instances.
All this made me dive deeper and find ways to secure my online banking transactions. I did not want to let go of the convenience neither I am I ready to allow a hacker steal my hard-earned money.
This post is a compilation of everything I found to be useful for all who rely on online banking. The good news is that you don't need to know anything technical or too coder-stuff to understand these pointers. In fact, I was surprised that these were so simple yet effective. Still not many people use it to protect themselves.
Use An On-Screen Keyboard
Before explaining why you must use a virtual keyboard for giving input on a banking website, first, you must gain background knowledge on spyware. Spyware programs are malicious programs that are planted in a user system to gather (or rather steal) information without the user's knowledge. Even your keyboard taps can be observed and relayed by spyware programs to third-party entities.
An on-screen keyboard helps you find your way around such spyware programs. It is activated on your computer screen. You can click on each alphabet, instead of typing which makes it almost impossible for the spyware to track your keyboard taps.
Advanced on-screen keyboards also rearrange the keys after each character making it impossible for the spyware to track your input in any form.
Setup Email And Mobile Alerts For Every Transaction
Nearly every bank provides the facility to set up notification for every credit/debit on your account. You can receive notifications as SMS on your phone or as an email in your inbox, or even both. These instant notifications help you stay updated whenever there is an activity on your account.
When you are notified of some charges, withdrawals or transactions without your knowledge, it is easier to contact the branch to take precautionary measures. You can even set up notifications for a change of password, adding a new beneficiary and so on.
If the notifications are getting too frequent or if you have a sparse number of transactions during a period, customize the notifications to come at the end of the day/week/month.
Look For The Green Address Bar
The green address bar is something which I always look for before signing into my account. Like I said before, hackers have become adept at tricking users into submitting sensitive information like account number, username, and passwords. Some of them have even gone to the extent of designing imposter banking websites that you really can't distinguish from the real bank's website.
But, it is possible to know whether it is the genuine bank's website or an impostor website. Just look for the green address bar. Click on the green address bar, and you can see all details of the certificate owner.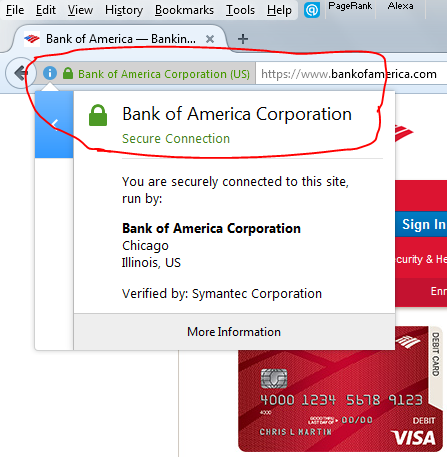 The green address bar is a proof that the website is secured and encrypted using an Extended Validation certificate. One of the several Extended Validation certificate benefits is that it is issued only to the true domain owner. The Certificate Authority who issues the certificate does a thorough study of the paperwork, background and domain ownership before the certificate issuance. This ensures that there is only one true banking website where you have to head to for all your online banking transactions.
Never Bank From A Public Wi-Fi Or A Cyber Cafe
Many times I have been forced to use my bank from the nearest cyber cafe or a public Wi-Fi. Each time I resist the difficulty and choose to skip the convenience of a cyber cafe or a public Wi-Fi. The reason is plain and simple.
Public Wi-Fi is largely insecure and cyber cafe systems have the least possible security measures. If you can find a system that has a strong antivirus software that is updated, you are lucky.
All this has a strong bearing on your bank account's safety. Shrewd hackers can dig for your passwords from cookies and reuse them to access your account without your knowledge. Hence, always abstain from using a public Wi-Fi or a cyber cafe for your banking works.
Few Other Thoughts
Remembering online banking is as important as fixing a tempered glass for your smartphone. The danger of exposing your bank account to the outside world is indescribable. Sometimes you not only lose money but, might also become the party of criminal proceedings if your account is misused. Hence, the need to follow discipline in using online banking services.
Hopefully, these tips I have observed from my experience must help you. Before wrapping up, remember that your bank does not email you asking for passwords or username. So never share it across an email. And, always log out properly. Don't just close the window and walk away. Someone else might be able to log in to your account by restoring the window. Safe banking!