Travelling is fun and relaxing activity; it broadens our horizons and makes us understand that truly we all aren't all that different from each other. But more than often travel trips can turn into disasters and be simply a strain on oneself. There can be many reasons such as an improperly planned trip, missed flights, dodgy reservations, unforeseen circumstances, or more. The most common however is that most people pack too much for their trip and that extra baggage weighs them down and acts as an obstacle to a successful trip.  As there is no point in bragging about finding a cheap New York flight (visit here) and then forking out dollars for the extra luggage!
 The more you pack and carry useless luggage around you it will cause the following problems for you:
It will be harder for you to move around, explore the city
Have a constant fear of someone swiping your baggage
More money spent on taxis, porters, cabs, and flight baggage charges
Make you physically tired from hauling around the entire luggage
Prevent you from buying souvenirs or do any other shopping
Make it difficult for you to cope with last minute travel changes
Less definitely means more when it comes to packing no matter what the duration of the trip is but most people confuse it with having to sacrifice their sense of style and feeling of comfort. This concept is far from the truth as the idea is to pack everything that you will need or may need that won't be available where you are going. The key is to pack smartly without any sacrifice of any kind.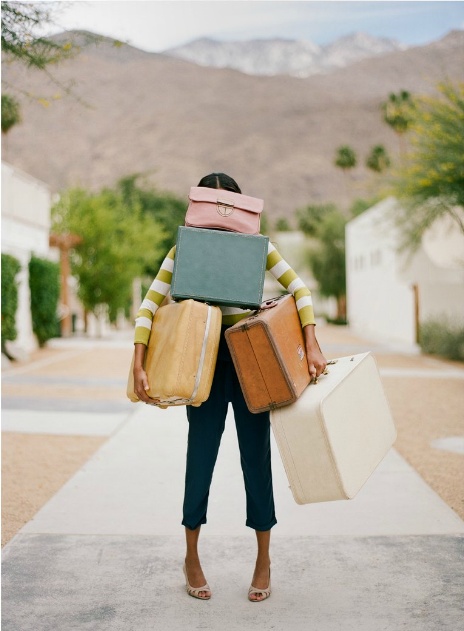 Here are Some Tips to make your Suitcase a Little Lighter:
Start Small
Start with a bag that you can easily fit into your overhead plane compartment. Tell yourself that all your packing will fit into this bag only. The chances are that the larger the bag the more likely you will keep stuffing it to the brim but if the bag is small then you will be forced to make decisions.
Gather Information
Gather all information about the trip ahead- the weather, the activities you will indulge in, whether the place is conservative or not, the availability of basic items such as toiletries, and more. The chances are that the more you know the more you will be able to make a informed decision about your packing.
Analyze!
Before you start stuffing your things directly in the bag- spread them around on the floor (maybe living room floor) and look at each item specifically and analyze whether you really need it or not?
Go through the following 3 questions for each item:
ü  When will I need it? (if unsure then leave that item or piece of clothing)
ü  Will it not be available where I am going? ( for example there is no need to haul the large Gillette container when its readily available everywhere)
ü  Is there any alternative? (If instead of this particular tie/ top/ shirt/ dress/ heels I take something more multipurpose would it not be better- choose the more convenient alternative).
Do ask your travel agent like I asked mine Airbridge Travel for the baggage limitations so that you have no problems for the trip.  There are many tips sprawling on the internet about how to actually pack your clothes and other items but the main gist is to start with an intention to pack light and realize that it will benefit you in the long run as there's no point in grudgingly packing light and being bitter about it for the rest of the trip.
Author Bio-
A dedicated travel writer Anas Ahmad who loves to transfer his wanderlust onto a page and also read other's experiences about travel. A spicy food aficionado along with things sweet.  Lives on the personal motto of "bring it on!" and a particular lover of simplicity.