There is no denying the eye-catching elegance of Indian attire when it comes to donning one at a celebratory occasion. The exquisite craft that goes into manufacturing a stunning Indian ensemble, such as the silk ivory lehenga set with sequin embroidery shown above from the Sabyasachi Udaipur Collection, is vindicated by the aura it grants to its wearer. But to truly make a fashion statement in your ethnic clothes, you need to be meticulous about styling. In that aspect, your accessories will make you stand out and be the talk of the evening.
From selecting the right pair of designer footwear to picking subtle jewellery that compliments your look, here are a few proven tips to expertly embolden your Indian look:
Get the Balance Right with Jewellery
Jewellery is definitely a woman's best friend, but if you tinker with it too much, it can become a huge fashion faux pas. Getting the balance right with jewellery is absolutely critical, whether you are wearing an Indian outfit or something else. Always contrast your bling with your ensemble. If the dress is heavily embroidered or decorated, opt for a single item of soft and subtle jewellery like a diamond pendant or a bracelet. If your attire is plainly lavish, then go for heavier sets and multiple ornaments, like this intricate gold-plated crystal-studded maang tikka framed in pearls by Just Jewellery.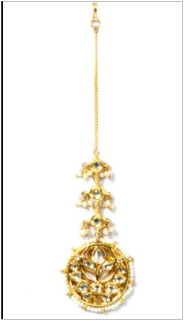 Match the Shoes with your Attire
The style of the shoe should be in sync with your dress. This is the number one rule, especially when wearing Indian attire. Therefore, opt for ethnic Indian footwear such as sandals, jootis, or kohlapuris. Stick to heels only when you are wearing a saree or a lehenga with a long fall and drape. While matching the colour of the shoe is not necessary, you must aim to wear a pair that is in a neutral shade. The stunning pair of Vian kohlapuri flat sandals shown below have navy blue and red sequins embroidery with a yellow gold faux leather insole, and are your perfect companions when you are wearing a traditional outfit with grand motifs.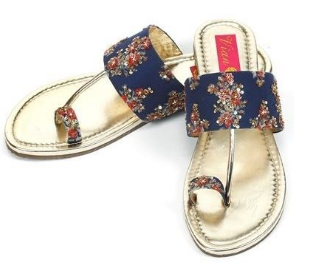 Select a Handbag that Speaks Volumes
Apart from its amazing functionality, a handbag or a clutch is the perfect cherry on the cake, if the right one is chosen to match your outfit. With Indian attire, choose a royal-looking handbag or a potli that carries floral motifs and embroidery. The Sabyasachi black zardosi embroidered clutch shown belowhas exquisite gold detailing that imparts a rather queenly look to anyone carrying it.