Think of all the times when you imagined going out into the great outdoors and just getting lost in a new location as you discover new sights and sounds you never imagined. That is what RVs offers. You can pack your bags, load the RV and drive wherever you choose. From the mountains to the forests to the beach, you can make it an individual activity, a romantic getaway for two or a family adventure.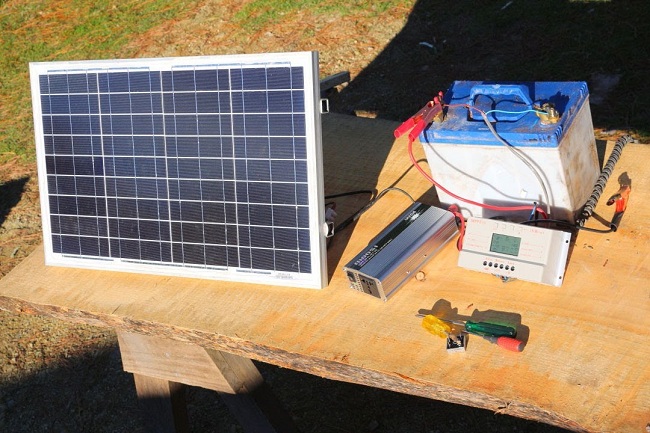 Yet what about electrical power? This question may be one of the reasons you never considered RV life. You don't want to be confined to only using RV camps and places that have electrical hookups so you can use your electrical appliances, your lights and your television. You want to be able to be alone while staying away from the noisy campgrounds and humming generators.
Going Off Grid with Solar Panels and Lithium Batteries
You can go off grid if you consider using a solar system that hooks up to a lithium battery to store electricity. These systems allow you to make electricity by pulling in the solar energy from the sun. You simply use the solar panels that can be installed on the roof of the RV or stretched out on the ground in a sunny location. Then you can store the power and take the energy with you.
Going off the grid with solar energy allows you to go anywhere you desire that allows for the legal parking of your RV. So you can find cheaper places to park your RV that has fewer onsite amenities, or even park in driveways on your friend's or relative's property, to enjoy all the nearby outdoor activities.
Planning Ahead for Your Trip and Energy Usage
One thing to keep in mind with your solar system for your RV is that you simply can't expect to gather enough solar energy in minutes to power everything. So you have to plan ahead regarding where you can stop to spread out your panels and charge your lithium batteries, just like when you plan on going to see a new location or enjoy a new activity.
There are a wide range of solar calculators to use to determine your energy usage to help plan out the type of system you need for your RV. Don't forget to check out the solar appliances that are available to help you use the energy more efficiently, such as stoves, showers, headlamps and other items.
Get off the grid and take your RV to new places by investing in solar systems to power your electronics and appliances. You can go on whole new adventures in the great outdoors.