Mountains have lots of stories and for some reaching great heights give amazing thrills. The more the height, the thrill is tremendously great. People love to reach the top to see the Nature's giant and the thrill which is reflected in their eyes in immense.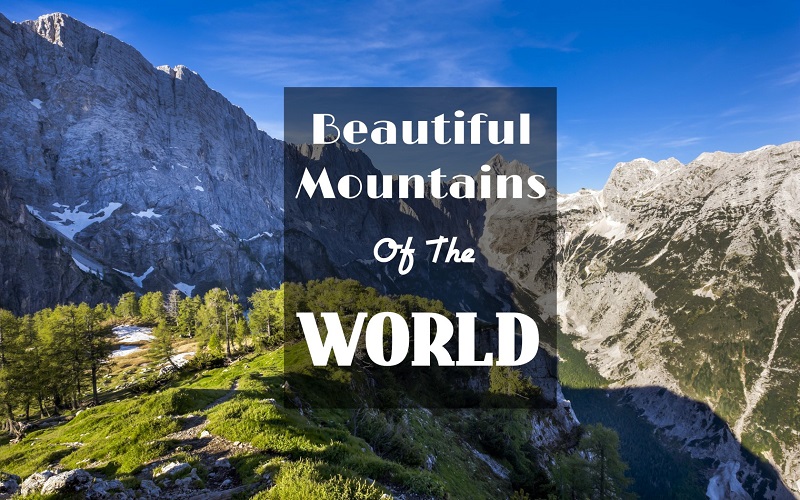 Some have the love for exploring beautiful mountains worldwide. Mountains can be classified on the basis of their height, location, positioning. Here are a few popular Mount Peaks that one should explore:
Ama Dablam
Ama Dablam is a globally popular and beautiful mountain located in the Khumbu region of Eastern Nepal. It is at an altitude of 6812 and is snow covered. Its white beauty makes it an attractive place to visit and perfect for its scenic beauty. It is regarded as the Matterhorn of the Himalayas. Ama Dablam is a famous climbing route for the permitted expedition.
Table Mountain of South Africa
Overlooking the Cape Town city, this table mountain is a beautiful natural wonder of South Africa. This has a height of 1084 meter high mountains. It is a paradise for both nature lovers and hikers.
The cable car service will also take you to the top from where you can enjoy the magnificent view of cape town. It is also a hometown to a large species of plants and animals. Many of which are found nowhere else in this world.
Mount Assiniboine, British Columbia, Canada
It is one of the most beautiful mountains of the World, located in Canada. This 3618 meters high, striking peak is known as 'Matterhorn of the Rockies'.  It is so called because it has the particular pyramidal shape like.
Eiger Mountain, Bernese Alps, Switzerland
Situated in the Alps of Switzerland, this mountain has an elevation of 3970 meters and looks amazing from all directions. Though it has many routes, all are challenging. Though amazingly beautiful, it is not easily approachable.
Tre Cime di Lavaredo, Northeastern Italy
It is a group of three peaks situated on the world-renowned Dolomite mountain range in Northeastern Italy. The three peaks are named Cima Piccola, Cima Grande, and Cima Ovest. This is situated at an altitude of 2999 meters. It has approachable as it has numerous routes to it easy and challenging both, but surely can be reached for the ultimate feel.
Mount Fuji, Honshu Island, Japan
It is the highest peak with 3776 height. This is a volcanic mountain situated on the Honshu island. Climbing Mount Fuji is so famous among both Japanese and international tourists. It is estimated that more than 2 lakh people climb Mount Fuji every year. Amazing, isn't it?
Denali, Alaska, United States
Denali is the highest and the third most isolated peak in North America. Because the upper part of Denali is covered with snow. This mountain is also home to five large glaciers.
Kirkjufell
Kirkjufell is an impressive, 463 meters high mountain located in Grundarfjordur town in Snaefellsnes Peninsula in Iceland. It is one of the most photographed mountains in Iceland.
Though this does not complete the list of the beautiful mountains of the world, this is a glimpse of some of the mountains which are beautiful in it.