Most people are now open to online shopping. This mode of shopping is getting extremely popular with each passing day. Why online shopping works? It is the convenience that attracts people to shop online. Why drive down all the way to the mall or a designer store when you can buy it online? The convenience and the variety that is offered online have changed the mindsets of people. Not just men, women have also started shopping online. The number of women shoppers online is raising everyday.
Women love to buy apparels online especially the ethnic collection. There is a wide range of traditional outfits available for women online. When it comes to ethnic wear, Anarkali suits are very much in trend right now. They look versatile and are preferred on festivals and traditional outings. Anarkali suits make any women look classy and pretty. There is a huge collection of Anarkali suits available will all sorts of colours and designs but women mostly prefer dual coloured Anarkali suits with intricate designs. Anarkali suits make women look elegant and graceful. It is the most talked outfit in the ethnic realm.
There was a time when women would wear sarees to add sophistication to their look but now those sarees have been replaced by Anarkali suits. Even Bollywood celebrities love this concept. From superstars to new comers, everyone in Bollywood is seen wearing Anarkali suits on various occasions. Due to the rising trend, there is a huge market for Anarkali suits online. The leading online shopping portals are offering a wide variety of Anarkali suits at rock bottom prices.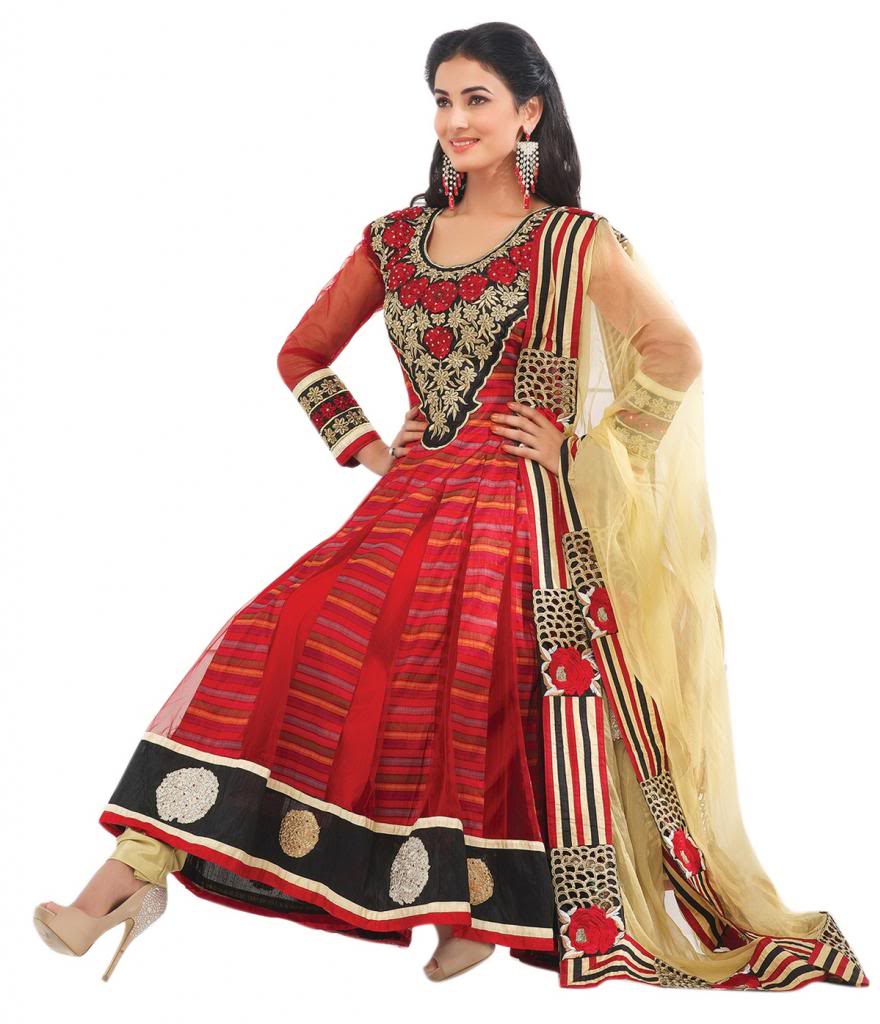 The question is that how do you buy an Anarkali suit. This is really helpful for someone who is struggling to find the right kind of Anarkali online:
Occasion
The online space is flooded with tons of Anarkali suits. Choose an Anarkali suit as per the occasion you are going for. If you are planning to buy an Anarkali suit for weddings and other occasions of that scale, you can go for bright coloured suits with heavy work. On the other hand, if you want an Anarkali suit for casual outings, go for cotton Anarkali suits with minimalistic work. The designer Anarkali suits are high on embellishments which makes it the right attire for weddings and engagements. Young women can experiment with different types of Anarkali suits in terms of styles, cuts and layers.
Fabrics
Anarkali looks best when it is flowy. Hence choosing the right fabric is very essential when you are buying an Anarkali suit. If you are looking for a party wear Anarkali suit, go for fabrics like georgette, chiffon, net, velvet etc. These fabrics are sure to enhance your looks. As far as prints are concerned, brocade and chanderi prints are ideal for these occasions. Fashion designers merge two fabrics to create the perfect Anarkali look. Fabrics like georgette and chiffon are blended for casual outings whereas silk fabric with brocade prints is the hot favourite in bridal outfits.
Body Type
Women who are short and healthy can go for flowing fabrics as they are known to balance the look whereas slim and petite women can choose fabrics like cotton and silk.
Designs
Anarkali suits are all about elegance. Hence, you must avoid giant prints. It is advisable to choose intricate work. Zardosi, kundan work, sequins and stone work are the hot favourites right now. These are handmade prints and make you look really classy.